Author: OBE's Diversity and Inclusion Group
To participate in the theme of this year's Women's History Month, "Celebrating the women who tell our stories," OBE's internal Diversity and Inclusion Group (DIG) invited Jennifer Herrera from the National Women's History Museum to tell her story and speak on the important work the museum is doing to preserve, recognize, and honor women throughout our history. As Chief Communications Officer, Jennifer oversees all public affairs, marketing, and media relations efforts for the museum. Throughout the conversation, we were constantly reminded how our stories—women's stories—can help us better understand where we've been, where we are now, and where we're headed in the future.

Here are some highlights from our session together.


Where We've Been
Founded in 1996, the National Women's History Museum is the nation's leading women's history museum. The museum focuses on uncovering, interpreting, and celebrating women's diverse contributions to society, including stories of iconic and lesser-known American women.
The work of the museum seeks to share the stories of women, educate its guests on the full history of women, and empower the next generation with the same courage and wisdom of the women who came before them.
Sharing the Stories of Women throughout History
A critical platform for sharing women's stories is education. Through its "Where are the Women?" report, the museum explored state-level social studies standards and what each state expected students to know by grade. The report found that women's experiences and stories are lacking in U.S. history standards: of the 737 historical figures in curriculum standards, just 178 are women.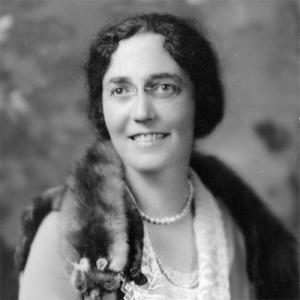 Jennifer shared about her personal favorite, lesser-known woman icon, Adelina Otero-Warren. Otero-Warren was the first Hispanic woman to run for Congress and the first female Superintendent of public schools in Santa Fe, as well as a leader in New Mexico's women's suffrage movement. As a native of New Mexico herself, Jennifer was surprised she was never taught about Otero-Warren in school.
The "Where are the Women?" findings have compelled Jennifer and her museum colleagues to work with local leaders and politicians to address the breadth and depth of women's history and ensure its inclusion in standard education. As Jennifer eloquently stated, "when women see themselves in history, it helps them see their worth in the world."
Sharing Stories of Women from Recent History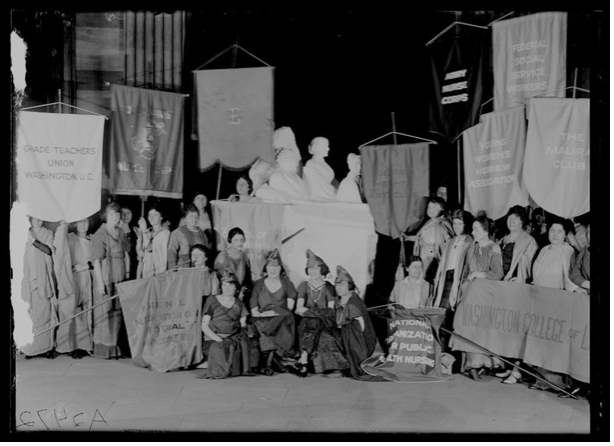 Perfectly capturing how recent some of the Women's Movement accomplishments are, Jennifer shared the story of one statue's journey. "The Portrait Monument" was installed in the Capitol Rotunda during a historic ceremony in
1920 to commemorate the passing of the 19th Amendment and the 72 years of legislative work by suffragists Lucretia Mott, Elizabeth Cady Stanton, and Susan B. Anthony. The very next day the monument was moved into the Capitol crypt storage room on orders by Congress, where it remained for 77 years. The National Women's History Museum advocated for the statue to be returned to the Capitol Rotunda, and on Mother's Day 1997, it finally happened.
Where We Are Now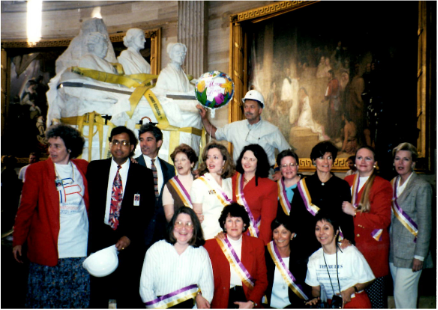 In our open discussion with Jennifer, we covered historic stories, like those mentioned above, recent achievements in Women's History, misunderstandings in the storytelling around women's history, and shared our thoughts on where we're making the most—and the least—progress today.
We spoke extensively on the significant opportunity for improvement and inclusion, as well as the major issues facing the Women's Movement today:
Racial justice

Education

Representation

Violence against women

LGBTQIA+ rights

Reproductive rights
Collectively, we confirmed how women are overlooked and under-represented. Their stories are removed from history or are limited to a select group of (typically white) women.
Where We're Heading in the Future
The National Women's History Museum is opening its We Who Believe in Freedom: Black Feminist DC exhibit at the Martin Luther King Jr. Memorial library this week as part of a partnership between the museum and DC Public Library. The exhibit tells the stories of Black feminist organizers' work to fight for freedom and liberation in Washington, D.C. and across the United States.


The museum is actively working on Women Writing History: A Coronavirus Journaling Project and invited us (and individuals from all ages, backgrounds, cultures, and socio-economic circumstances) to tell our stories. By keeping a journal in 30, 60, 90, 120-day, or any longer OR shorter increments, we can contribute our journalistic efforts to the National Women's History Museum and become a part of living history. The journals will be used as a living archive of women's lives during the COVID-19 pandemic, as well as for online and physical exhibits, articles, and stories.
On top of their free, virtual events held throughout the year, the museum also features several virtual exhibits – available to guests 24/7. With stories on Maria Tallchief: America's Prima Ballerina, The Women's Army Corps: Female Soldiers in World War II and Representation with a Hyphen: Latinas in the Fight for Women's Suffrage, you're sure to discover something new about Women's History.
Some Final Thoughts
Educating and showing the next generation of young girls they matter is a cause DIG and OBE will cheer for, learn from, and support. With a Leadership team and employee base made up of mostly women, we believe in the power, possibility and importance of all women's stories. The room for growth is vast, and we are grateful for organizations like the National Women's History Museum, which is shining light on stories, issues and opportunities that have sat in darkness for far too long.
Continue your own learning and stay up to date with everything upcoming at the National Women's History Museum: Website | Instagram | Linkedin | Facebook