When we got to work this week, there was more coffee left in the pot than usual. Drake didn't make nearly as many appearances on the office playlist. There was even room left in the fridge. That can only mean one thing: our summer interns, or the OBE Summer League, are back at their universities finishing their degrees. We are missing them already because it was such a pleasure to work alongside each of them.
So, do yourself a favor and take some time to hear from our 2022 interns. You may learn a little about us in the process.
---
What's OBE like?


WILL | STRATEGY INTERN


OBE is very welcoming and caring. The office is a warm environment, and it feels like co-workers genuinely appreciate that you are around. People want to know about you and are quick to include you in what they are doing. Everybody is serious about producing great events and experiences, but OBE takes their employees' well-being just as seriously. 


JULIETTA | ACCOUNT INTERN


The culture at OBE is very close-knit and inclusive. Everyone is friendly and supportive, and many have strong relationships outside work. The company emphasizes mental health, even incorporating a recess into the middle of the day to give employees a break. There is a company therapist on retainer, and every office tries to get together outside work for happy hours and parties. The offices are also very interconnected, and people in NYC have genuine friendships with those in SF or LA.

---
What skills did you hone this summer? 

FAIRREN: TECHNOLOGY INTERN


I have learned how to be adaptable. I had to take on multiple projects at one time. But I have also gained the skills of networking and building relationships, both professionally and recreationally. 
SERGIO: PRODUCTION INTERN


I learned a lot at OBE this summer, but one big thing was creating production grids. I saw how important it was to keep work organized, both pre-production and post-production. Creating a workback was a bit challenging at first, compared to vendor, rental, purchase grids, or production schedules, but then you start getting the idea once you work through it enough. 
JULIETTA | ACCOUNT INTERN


This summer, I learned the importance of asking for what you want. Showing interest in a department or project goes a long way and can help you better tailor your experience. Whether your request is accepted or rejected, the answer will always be no if you don't ask.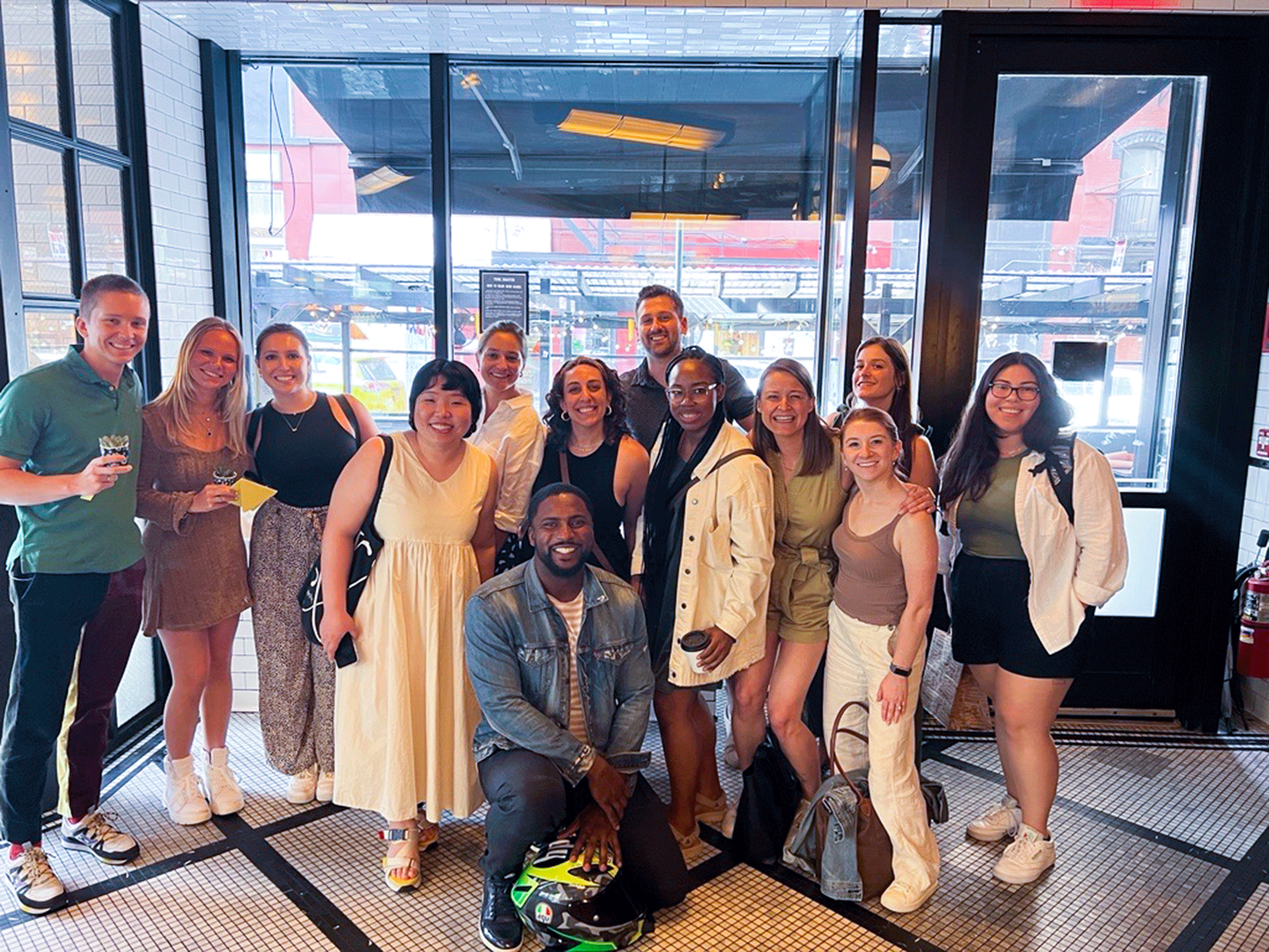 ---
What was your favorite experience this summer?  

ELLA: DESIGN INTERN


My favorite experience was contributing to the OBESF company offsite event. It started as just a brainstorm, but I got more involved as it went along and helped create the presentation, present it, and even create a logo that was used on the bucket hats! It was such a fun experience because I got to get closer to a lot of people in the office, contribute my creative ideas, and watch them come to life! 
FAIRREN: TECHNOLOGY INTERN


I loved sideloading a VR. I was transferring pics, videos, apps, and more. I had never messed with VR before, so that was cool.
---
How did OBE push you out of your comfort zone?

WILL | STRATEGY INTERN


I didn't expect to contribute to live client projects, but OBE kept me busy with real work from day one. I was pushed to try new approaches and methodologies to creative strategy, which was out of my comfort zone and intimidating, but ultimately really rewarding.
SERGIO: PRODUCTION INTERN


I was involved in other projects outside my department, where I had to think outside the box. For one project, I assisted with a strategy project for a banking client. I have zero experience with banking and had to think creatively and strategically about how to improve the banking experience. I was also given tasks that challenged me to think proactively and outside the normal way of thinking. 

---


How has OBE prepared you for future jobs? 

ELLA: DESIGN INTERN


OBE has absolutely prepared me for future jobs working in advertising and design. I had the opportunity to sit in on various meetings with clients and contribute to brainstorms. I was able to experience first-hand what a job in this field looks like, which has been insightful for what I want my future to look like. 

JULIETTA | ACCOUNT INTERN


This summer has been my first taste of a real office job, which has been very different from my experiences of previously only working in retail. In addition to maneuvering my way around public transport during my daily commute, OBE taught me so many behind-the-scenes logistics that are valuable to a company. I found myself using many new social platforms and technical skills, which I had to adapt to quickly. Everyone is also very hardworking and can get serious when needed, which pushed me to match that vibe and finish everything promptly and to the best of my ability. 
---
What advice would you give to the 2023 interns?

SERGIO | PRODUCTION INTERN


Don't be afraid to suck at something new. It's pretty fast-paced, and if there are multiple ongoing projects, you have to be flexible enough to help. There's a lot about production you might not have prior knowledge of, and that's okay. Everyone there wants to help and invest in your future. Also, try to have conversations with everyone, especially outside of your department – it will help you understand how OBE functions as a whole & who you should go to if you have questions about something.

WILL | STRATEGY INTERN


Make the most of your time at OBE because two months go by faster than you expect. Also, go to a site visit if you can, and witness the awesome work you contributed to. Even if it's not a project where you had a direct role, use this opportunity to see how OBE is pushing the boundaries of what marketing agencies can provide.
---
Want to join our team?