Author: Emily Dolber, Sr. Brand Marketing Director
We, OBE, have unveiled a redesigned website featuring an updated brand identity and agency reel, reflecting the agency's evolved positioning and expanded capabilities.

Expanded capabilities.
The past few years have changed everything we thought we knew about experiential marketing. Some agencies saw that change as a threat, but OBE saw it as an opportunity to evolve and innovate. As our clients' needs changed, we adapted: we transformed IRL events into virtual experiences; we flipped in-person conversations into remote interactions; we translated brand moments into branded content. Not only has OBE added to its list of capabilities and services—we have curated and expanded our team of experts who are ready to deliver.
OBE content capabilities have expanded beyond live-streamed events, event sizzle videos and recap photography (although we love these, too!). We now produce and create within a wide range of formats and tell stories in countless ways—from the initial concept, to planning and development, pre-production, filming, production and post-production.
From high-quality, long-form scripted videos to visually stunning animations and motion design, from complex remote productions pushed from our in-house studio to capturing candid moments on-location—we create content that people care about.
Our team of skilled professionals—including directors, producers, photographers, editors, animators and talent managers—collaborate to develop relevant content that resonates, whether the content stands alone or is a piece of an integrated, multi-channel experience. We utilize our expertise in content strategy and our versatility in various media forms to create impactful campaigns that achieve our clients' goals.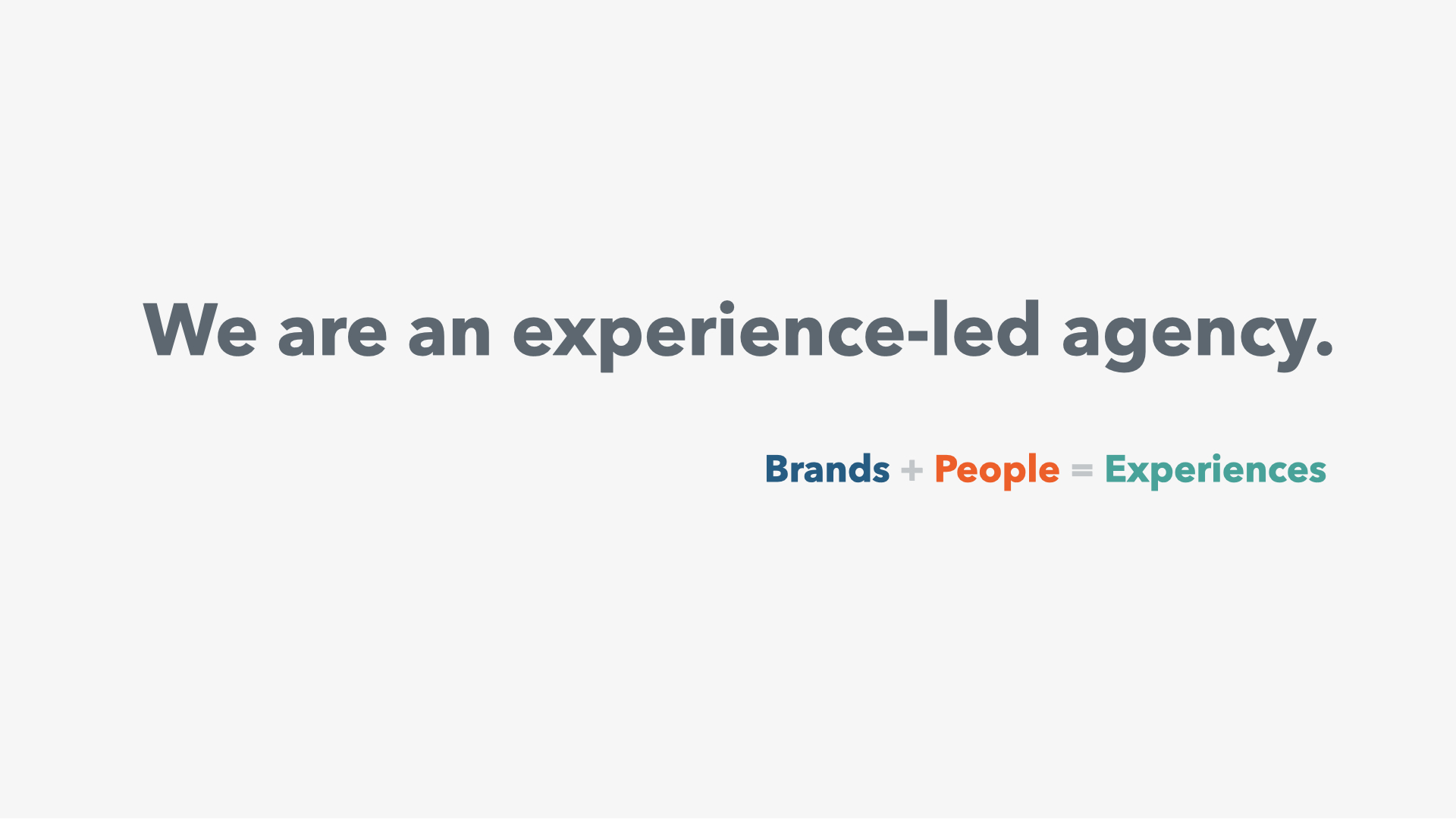 Evolved identity and positioning.
With shifting client needs and expanding capabilities, OBE's focus has evolved from experiential marketing to experience-led marketing, reinforcing that any way a brand engages with people is an experience. Gone are the days when experiential marketing simply meant in-person events and interactions. A brand can engage with people in so many more ways—through storytelling and entertainment, content creation moments for all to share, interactive content, virtual and hybrid experiences, partnerships, sponsorships, and so much more.
OBE's new brand identity is an evolution of our previous brand, an identity that is meant to embody our channel-agnostic approach to experiences. It aligns with our internal ethos and represents the service we provide to our clients and the audiences they want to engage. Our updated tone reflects our seriously playful brand nature: straightforward, savvy, clear, seriously fun, inclusive and collaborative.
Our visual center embodies our team-centric thinking through a new hierarchy in brand marks, expanded color ranges allowing us to create more inclusive designs (as color vision deficiency affects approximately 1 in 12 men and 1 in 200 women), added depths and dimensions with type and motion principles, and curated photography, illustrations and iconography. Our overall design approach mirrors the attention our work demands, as it's not one-dimensional.
To see it all in action—click through our website, watch our agency reel above and visit our social media profiles (links in footer below). You can even come meet us in person and see how our brand has come to life in our offices—sneak peek of our SF office below.